Thu, 21 Jan 2010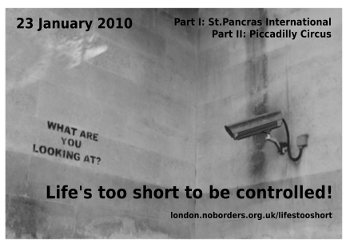 On one of his blogs, professional photographer Peter Marshall neatly summed up the experience of too many when taking photographs in public places in the UK with the call to arms:
If you've got a camera, use it. Otherwise soon you won't be able to.
This Saturday, the campaign I'm a photographer, not a terrorist! (phnat) is calling everyone who values visual imagery, not just photographers, to a mass gathering at noon in Trafalgar Square in defence of street photography. (A few related posts: Stop'n'search gets touchy-feely, Hostile reconnaissance - no conviction yet but trials coming, Snap a copper and get ten years in the slammer - (mis)interpretations.)
Also on Saturday, London NoBorders is having two demonstrations on the theme of Life is too short to be controlled! The first one, at 2pm St. Pancras International, to protest against the e-Borders controls put up by the UK Border Agency. The second, at 4.30pm in Piccadilly Circus, is against the constant remote CCTV observation by security and police. (Some related posts: A web of indifferent watching devices, Missing CCTV footage - again, Sean Rigg - no justice, no peace, no CCTV footage.)
Update: Look at some pictures I took at the phnat and NoBorders demonstrations. Read Peter Marshall's excellent photo reports on the phnat and NoBorders protests. Read the NoBorders' report on London Indymedia and see the press clippings for the phnat gathering on Marc Vallee's blog.
First published on 2010-01-21; last updated on 2010-01-27.
---